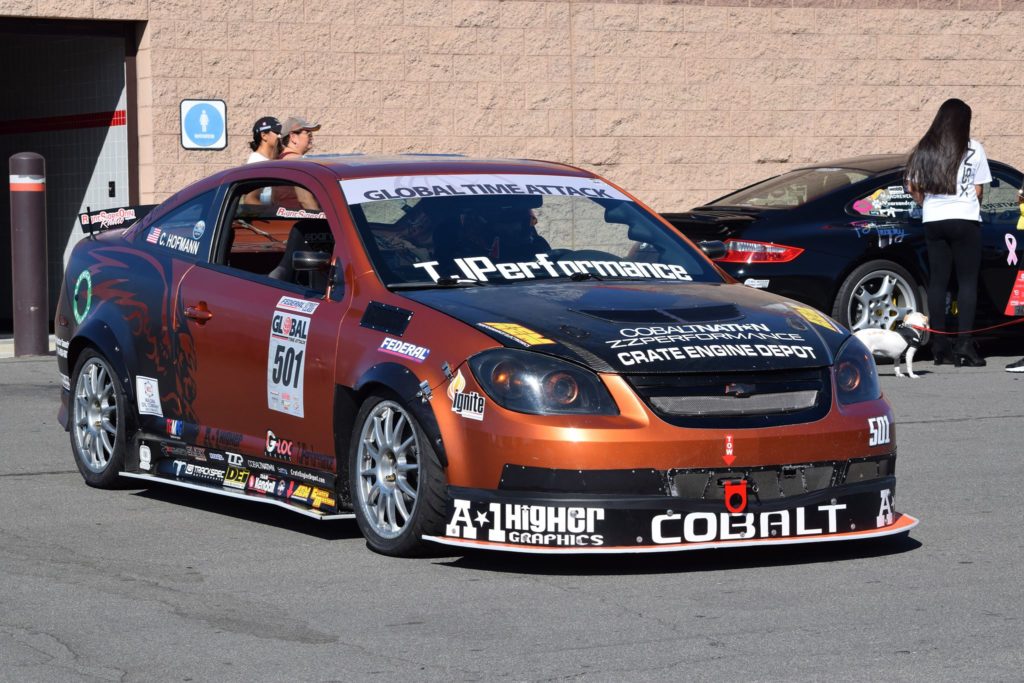 "A mythical bird that never dies, the phoenix flies far ahead to the front, As the end of its life approached, the phoenix would build a pyre nest, set it on fire, and be consumed in the flames. After three days  — the phoenix arises from the ashes…."
Nickname: Phoenix
Class: Street FWD
Year: 2006
Make: Chevrolet
Model: Cobalt
Chassis Code: LT
Engine: ECOTec L61/LSJ Hybrid
Displacement: 2.2L
Boost Pressure: 20 PSI
Fuel: Ignite E90 "Red"
Power Output: 400WHP/ 300 Tq
Weight:
ENGINE MODS


Block: GM Gen 1 L61
Sleeve: Powerbore Ductile Iron Sleeves
Crankshaft:  GM
Connecting Rods: Eagle
Main Studs: ARP
Camshafts: ZZPerformance Stage 2 w/ ZZP Adjustable Cam Gears
Valves / Valvesprings / Spring Retainers: 82# ZZPerformance
Head: LSJ head
Head Gasket: GM
Head Studs: ARP
Intake Manifold: Gm Stock with Single Pass Mods by TJPerformance
Intake: 4″ TJP Stainless Intake w/ K&N Filter
Throttle Body: GM LS7
Supercharger: Harrop TVS 1320 on 2.9 Pulley
Exhaust: ZZP Long Tube Stainless 2.5″
Fuel Injectors:  Fuel Injector Connection 1300CC Split Feed
Fuel Cell:  Stock tank w/ AEM E85 Green Pump, TJP Surge tank.
Spark Plugs: NGK
Coil Packs: Speedfactory K Series
Radiator: TJPerformance All Aluminum Racing Radiator
Intercooler: TJPerformance All Aluminum Racing Heat Exchanger
Engine Management: AEM Infinity 508
DRIVELINE MODIFICATIONS


Transmission: Stock GM F23 (Rebuilt by TJP)
Transmission Gearing: HHR Drive Gearset
Flywheel: Excedy Chromoly
Clutch: Clutchmasters FX500 8 Puck
Differential: Quaife LSD
Axles: NAPA F23 Axles
SUSPENSION AND BRAKES


Shocks: Feal Suspension
Springs: Swift Race Springs
Sway Bars: Front: N/A Rear: ZZP 1.25
Chassis Stiffening: Powell Race Shop UCR's
Additional Suspension Work: Powell Race Parts Aluminum Lower arms w/ Delrin CAB's and spherical bushings
Setup and alignment by MTP, Modesto, CA
Brakes: R1 Concepts Slotted
Pads: G-Loc R6/R10
Brake Lines: Goodrich Stainless steel
Fluid: Stoptech STR 660
Rear Disk Conversion to LNF brake system done in house.
WHEELS AND TIRES


Wheels: Team Dynamics 17×8
Tires: Federal RSRR 235/40/17
EXTERIOR MODIFICATIONS


Front Bumper: Stock w Foximus Motorsports vent kit.
Hood: Extreme Dimensions Carbon Fiber w/ Trackspec Motorsports Louver
Fenders: Stock with DCD Custom Flare Kit and Trackspec Louvers
Side Skirts: RK Sport w/ Foximus Motorsports Bargeboards
Rear Bumper: Stock
Trunk Lid: Stock
Spoiler/Wing: Foximus Motorsports FMX1 Rear Spoiler
Splitter: Foximus Motorsports FMX2.1 Front Aero kit.
Doors: Stock
Mirrors: APR Carbon Formula Style on FMX3.0 Mounts.
Livery Design/Graphics: Design by FreezingHot Designs, Applied by A1 Higher Graphics
Paint: Sunburst Orange Metallic
INTERIOR MODIFICATIONS


Cage: Custom bent cage by iMS
Seat: Sabelt XL300
Harness: Impact! by Mastercraft Safety
Steering Wheel: Sparco
Dash: AEM CD-7