The first round of GTA's Pro/Am Series for 2017 is now in the books, and thankfully we can say that 2017 did not start off with the same bang that 2016 did. First, we want to say thank you to all our friends, competitors, and series staff that came by this weekend to see what we had brought back and to say they were glad to see us back after a year off.  That meant a lot to our small organization.
The best laid plans was to have us test a lot more in the off season, but anyone who has built a racecar will tell you – parts ship late, vendors get delayed, budgets get tight. We were able to get out once back in December and test the car, which was great for shaking out bugs, but we never got a chance to open her up and see what all she could do.  With the loss of 2016, we went into 2017 with basically a brand new car.  Phoenix "2.0" was sporting a new engine making over 70whp more (with a much larger power band), a new Controller and tuning package in our sweet AEM Infinity Setup, new shocks – Our FEAL Suspension re-valves of our older BC BR-Type coilovers, new tires in Federal RSRR's, and some new homemade designed and built aero.  There was a fair bit of nervousness Saturday morning when we unloaded off the truck.
That all went away as soon as we were able to fire her up and get out on track. Well, the firing up was tricky as this was the coldest temperatures Phoenix has been in yet, so we had to do a little tweaking to get the ethanol warm enough to light.  But that is where our new AEM Infinity shines.  a few quick tweaks and we were good to go, and as the day went on, its a very user friendly interface to make quick tune adjustments for changing weather and track conditions.  Hands down the addition of AEM to our lineup for 2017 has been a massive jump in helping us out, and we are proud to get to represent them.
Another big change was the switch from the Hankook RS3's that we have run for years to the new Federal RSRR's.  We were a little nervous at first, but by the 3rd lap we were sold on our new tire partner.  The Federals grab hard and don't get greasy as you run, staying even from start to finish (we ran more laps in each session than we normally would just to try and gather more data on the car) and never saw excessive heat or wear on them.  We are very excited to work with Federal this season and can't wait to see how the tires handle the high speed challenges of Buttonwillow.  The guys made a few changes throughout the day to the suspension and the car just felt amazing no matter what we did.
We also sadly say goodbye to one of our crew guys this weekend, as Jordy is headed back to Vermont for a new job.  He's been a great friend and a big help in fabrication, wiring, and track support this past year.  Wish you the best of luck buddy and hopefully we can get you back out for Super Lap or Road Atlanta once we make it out there.
We managed to unload fast, running a 1:29.3 in the first session, and then a 1:29.193 the next time out, taking 3.5 seconds off our previous best time at Streets.  Sadly we would only make 3 of the 6 sessions on track due to a slight belt misalignment issue that had us shredding serpentine belts above 8000 rpm.  We ran thru all our spares and had to call it an early day.  Frustrating, as we know the car had more in it, and because we should have caught the issue sooner, but its a simple fix to have done before Round 2.  New racecars always go thru teething problems, and if that's what Phoenix's was, I'll gladly take it.  At the end of the day we came home second in Street FWD, narrowly being beaten by 0.016 seconds.  Definitely the closest Street FWD event in a long time.
This year will hold challenges for us as we learn a new car, new tuning, and more, but we will continue to rise up to all the challenges before us and continue to go faster and quicker.  On to GTA Round 2 in April…..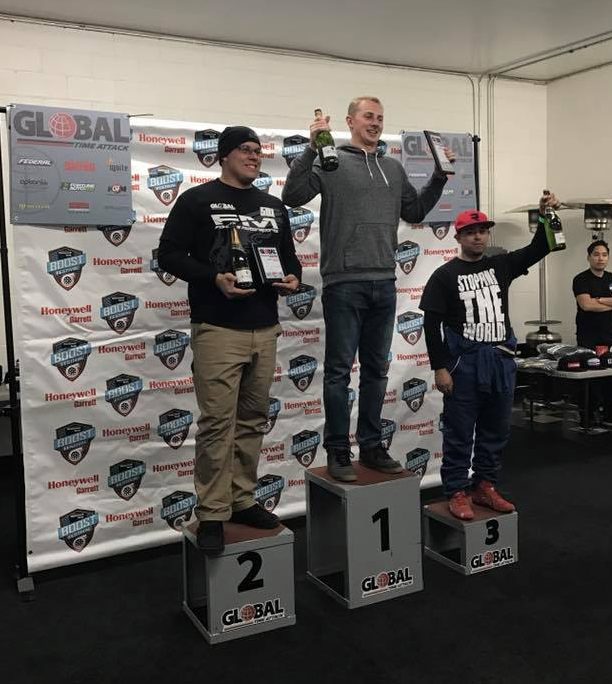 A1 Higher Graphics – AEM Performance Electronics – Clutchmasters – Crate Engine Depot – Design Engineering Inc – Federal Tire – GoPuck – Kendall Motor Oil – Ogio International – Paul L. Whitney & Assoc. – Pit Posse – R1 Concepts – RockwellTime – Slick Products  – ThatGMPartsGuy.Com – TJPerformance – TrackSpec Motorsports – ZZPerformance