The misconception that after the season ends, the cars go back into the garage, get covered up, and then wait for spring to roll around and a new season to begin is just that – a misconception.  Honestly, I've always found the off season to be the busiest time of the year for us, and this 2016-2017 winter is no different.
We didn't exactly have a "season" this year – We lost the motor on lap 1 of the season, and spent the rest of the year building a new engine, adding in the AEM Infinity ECU, and building a lot of parts – all while trying to keep our sponsors in the.  Honestly, between the loss of motor and my shoulder surgery, I was terrified that we were going to lose most if not all of them – why sponsor a race car that doesn't race? I figured all our work to line up new sponsors was going to go right out the window, but thankfully we have put together a line up of very supportive and understanding companies.  Hopefully we can give them the coverage and the results they deserve in 2017.
With no planned races, its been full bore in the shop.  We went testing finally 2 weeks ago, and since then Phoenix has been on stands while we make repairs, pull more unneeded weight out, and build some new parts.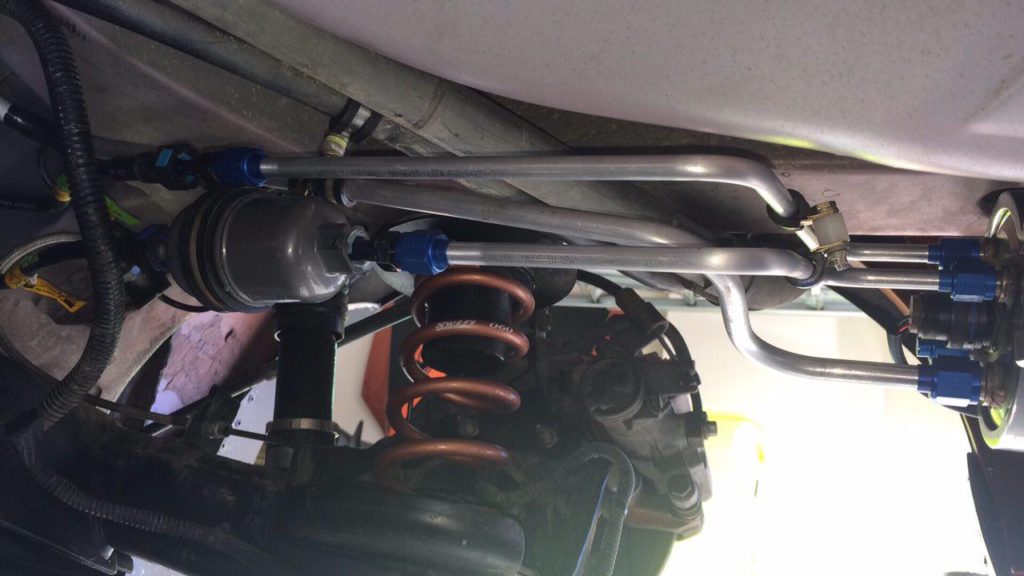 We built custom mirror mounts for our new APR Carbon Formula style side mirrors, redid some plumbing, added some sweet new Trackspec Vents in our fenders, and are developing some additional aero mods for the car that we home to unveil before GTA Pro/Am round 1 in February.  But its not just the race car that gets love.  Our Duramax tow rig got new tires, new rear axle seals, a new stereo (so we have more options besides AM/FM) and a back up camera to help hook everything up when its just me. The rig might be getting a few more things before round 1, we will see.  We also purchased an 18′ open trailer this fall from a friend of ours, and have been prepping it for 2017.  Some simple repairs it needed, some new lights, a gas can rack, etc.  Still trying to add power for the winch and an LED work light for loading before the year starts….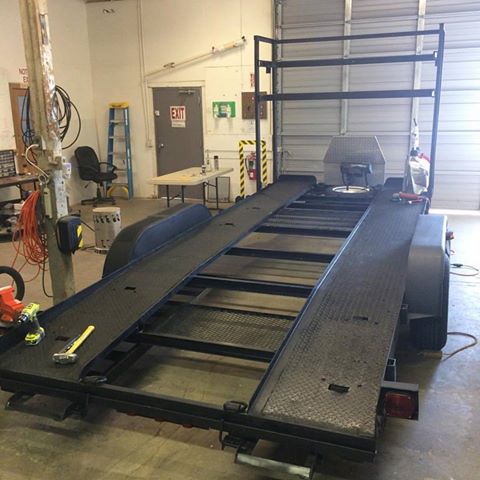 Add on top of that trying to wheel and deal with sponsorship and funding. We have run completely out of pocket the last 3 years.  We have been lucky to get some good deals and discounts on parts, but at the end of the day we have been self funded, and to compete at the level we want to, its difficult and expensive.  We have been in contact with over 2 dozen companies this winter about 2017, and are just waiting to see if any want to take a chance on our small team and help. Perhaps the challenges of sponsorship will be another entry this year.
But yeah, so the offseason just means we go to the track less and work on all the equipment more.  But we are gearing up to be able to compete stronger than we ever have before in 2017, and that's exciting.  Hopefully by round 1 in February we will have less blank space on the car to help propel us forward.
-Chris
A1 Higher Graphics – AEM Performance Electronics – Clutchmasters – Crate Engine Depot – Design Engineering Inc – GoPro – GoPuck – Ogio International – Paul L. Whitney & Assoc. – Pit Posse – RockwellTime – Slick Products – Spy Optics – ThatGMPartsGuy.Com – TJPerformance – TrackSpec Motorsports – ZZPerformance