Rosamond, CA (May 8, 2016) – The opening round of the Global Time Attack Pro/Am Season didn't quite end up how the team had planned.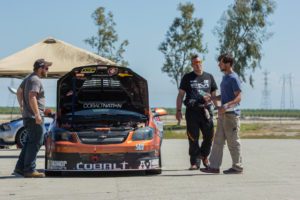 "Going into it, we were lucky to bring back a lot of our great partners from last season, as well as add a handful more.  We were also grateful for Masten Space Systems coming on board and lending us a rig for the weekend so we could tow out. We just got behind the eight ball this winter, with personnel changes, and parts, and never got a chance to fully shake out the car and see what we had.  The first laps on track were the winter shakedown, and well, it bit us this time" said Chris Hofmann. "We did see some gains with new products from TrackSpec and DEI, as well as some of our new in house fabricated parts.  The boys worked hard all day to try and fix the car, but it was a terminal failure in cylinder #1.  I just hat it for all our sponsors.  We really felt we could set a new PB today and challenge for the class win."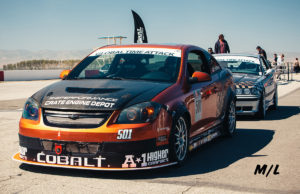 The team was able to still walk away with 3rd place in Street FWD, even with only being on 3 cylinders, and are actively working to get the car ready for Round 2 in August.  TJMotorsports in Modesto, CA is building the replacement motor for the team  (which we will talk about in future posts) which should be a healthier improvement over what has been powering Phoenix.
A1 Higher Graphics – Clutchmasters – Crate Engine Depot – Design Engineering Inc – GoPro – GoPuck – Paul L. Whitney & Assoc. – Pit Posse – RockwellTime – Slick Products – Spy Optics – TrackSpec Motorsports – Trifecta Performance – ZZPerformance